Evoke Premier Pro Raw Carbon Pickleball Paddle
SKU: KZ1151-BLKRC10
<! –– Bazaarvoice Shopify Integration Version 2.1 ––>
RAW CARBON FIBER SURFACE: The raw carbon fiber surface provides a naturally textured paddle surface which increases spin and control on the ball for improved and precise shot making
ONE-PIECE CONSTRUCTION – The singular piece core construction maximizes structural integrity between the paddle face and handle for enhanced paddle stability and durability
LIGHTWEIGHT – These lightweight paddles are designed with an edge guard to provide extra protection during rigorous play while retaining speed and agility
PERFORATED PREMIUM GRIP - The ONIX perforated grip provides increased comfort, tackiness as well as shock absorption
PADDLE SPECS – 10 mm weighs 7.25-7.75 oz., 12 mm and 14 mm weigh 7.5-8 oz., and 16 mm weighs 7.75-8.25 oz. DIMENSIONS: 10 mm:

3 7/8"

handle circumference, 5' handle length. 12 mm: 4 1/8" handle circumference, 5" handle length. 14 mm and 16 mm: 4 1/8" handle circumference, 5.35" handle length
Introducing the all-new Evoke Premier Raw Carbon Paddle from ONIX Pickleball, this raw carbon fiber surface texture increases traction on the pickleball for maximum spin and control without sacrificing pop and power. The polypropylene core provides a lightweight and durable paddle with excellent all-around maneuverability. This lightweight pickleball paddle is also constructed with a non-slip, comfort grip that makes it easy to control on the court. These paddles are USA Pickleball (USAPA) approved for tournament play. A full edge guard provides added protection during aggressive play. Raise the level of your game. Play Your Best with ONIX!
Paddle Length: 16
Face Width: 8
Handle Length: 10 mm and 12 mm: 5", 14 mm and 16 mm: 5.35"
Grip Size Circumference: 10 mm: 3 7/8", 12 mm: 4 1/8", 14 mm and 16 mm: 4 1/8"
Weight: 10 mm weighs 7.25-7.75 oz., 12 mm and 14 mm weigh 7.5-8.0 oz., and 16 mm weighs 7.75-8.25 oz. oz
Face: Raw Carbon
Core: Polypropylene Honeycomb
Paddle Shape: Standard
Handle Shape: Tennis Handle
Edge Guard: Yes
Meets USAPA requirements: Yes
Approximate measurements and weights only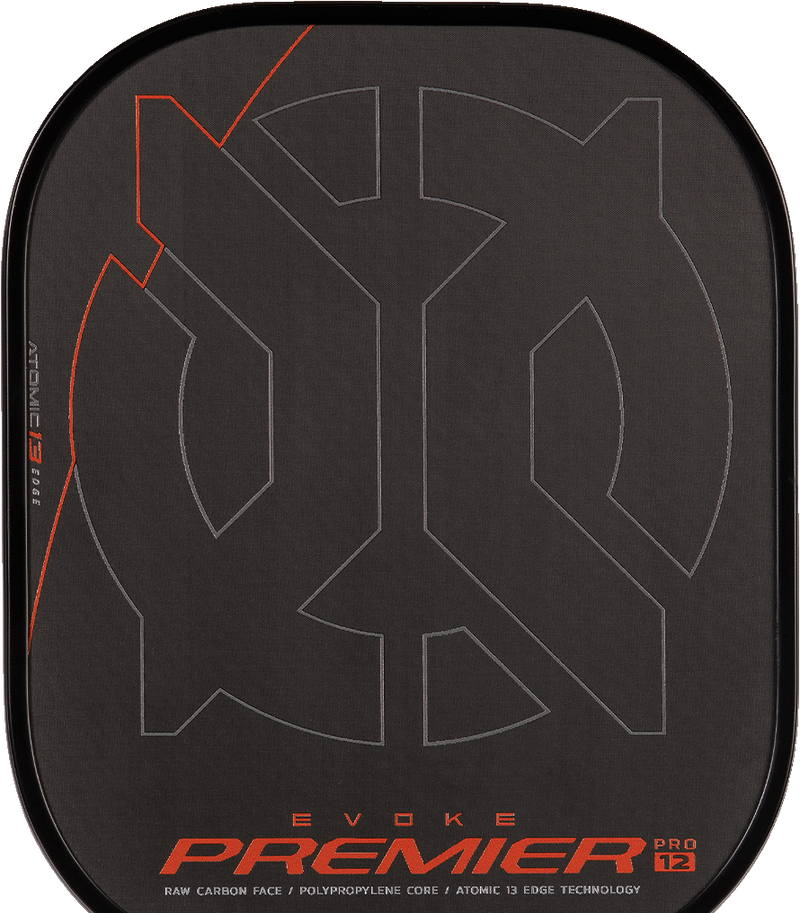 POLYPROPYLENE HONEYCOMB CORE
Polypropylene Core with increased thickness for better touch, power, and pop

CONTOURED TENNIS HANDLE
Mimics the handle shape of a tennis racket with a flared, wood handle

MEDIUM-WEIGHT
Balances power and speed for all-around performance

Raw-Carbon Fiber Face
The raw carbon fiber surface provides a naturally textured paddle surface which increases spin and control on the ball for professional shot-making
Evoke Premier Raw Carbon
Finding the right paddle for you involves determining the swing speed, control, and power you want to bring to your game.
Not sure if this is the right paddle for you? Let us Help!
Find My Paddle
<! –– Bazaarvoice Shopify Integration Version 2.1 ––>