Mayhem Composite Pickleball Paddle
SKU: KZ7000-MHM14CMP
<! –– Bazaarvoice Shopify Integration Version 2.1 ––>
POLYPROPYLENE CORE— Polypropylene honeycomb core insert increases thickness for better touch, power, and pop
CARBON FIBER POWER FRAME — Carbon fiber Power Frame wraps the entire paddle providing extra strength for the most rigorous pickleball play
HIGH-DENSITY FOAM HANDLE — Tennis handle is filled with high-density foam to enhance comfort while reducing vibration
PERFORMANCE POWER – Experience the unmatched performance power in a medium-weight paddle weighing 7.8-8.2 oz. with a composite face
HOT MELT PROCESS – Patented hot melt process molds pickleball paddle to exact specifications
Introducing the newest and most advanced pickleball paddle to the ONIX lineup, the Mayhem was technologically engineered to give you an edge on the court when you need it the most. The carbon fiber Power Frame wraps the entire paddle providing extra strength for the most rigorous pickleball play. The tennis handle is filled with high-density foam to enhance comfort while reducing vibration. The Mayhem features a polypropylene honeycomb core insert for better touch, power, and pop. Experience the unmatched performance power in a medium-weight paddle weighing 7.8-8.2 oz. with a composite face. Play your best with ONIX Pickleball.
Paddle Length: 16"
Face Width: 8"
Handle Length: 5.35"
Grip Size Circumference: 4.25"
Weight: 7.8-8.2 oz
Face: DF Composite
Core: Polypropylene
Paddle Shape: Standard
Handle Shape: Contoured Tennis Handle
Edge Guard: Yes
Meets USAPA requirements: Yes
Approximate measurements and weights only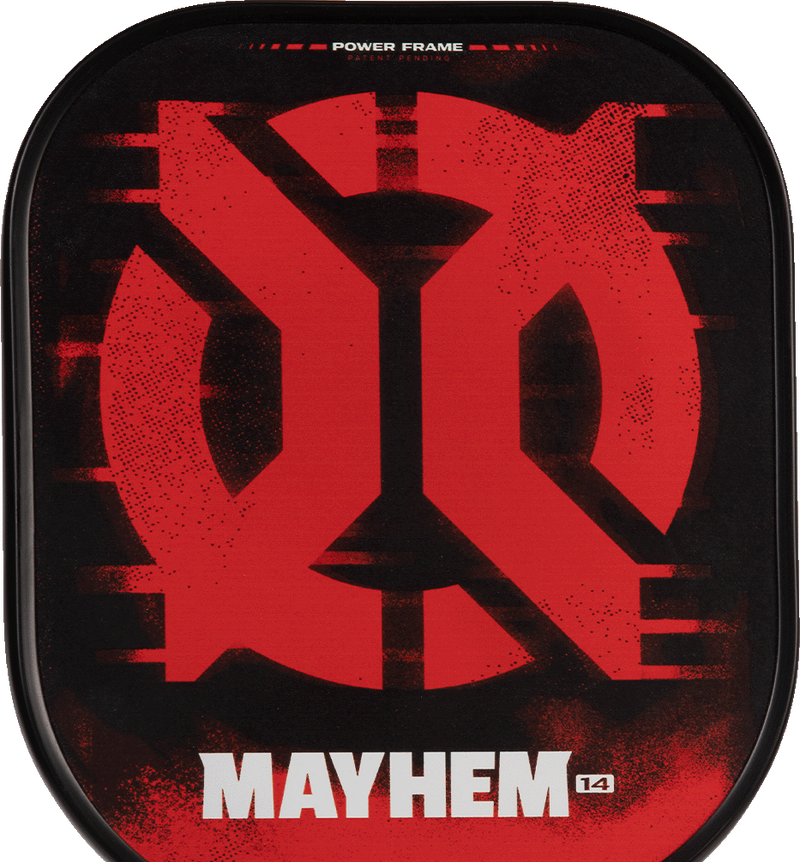 POLYPROPYLENE HONEYCOMB CORE
Polypropylene Core with increased thickness for better touch, power, and pop

COMPOSITE FACE
Offers medium-weight characteristics for added power and touch

MEDIUM-WEIGHT
Balances power and speed for all-around performance

CONTOURED TENNIS HANDLE
Allows players to deliver more spin than ever before
Hot Melt Process
Patented hot melt process molds pickleball paddle to exact specifications
Mayhem Pickleball Paddle
Finding the right paddle for you involves determining the swing speed, control, and power you want to bring to your game.
Not sure if this is the right paddle for you? Let us Help!
Find My Paddle
<! –– Bazaarvoice Shopify Integration Version 2.1 ––>