Z Junior Pickleball Paddle
SKU: KZ1510-YELJR
<! –– Bazaarvoice Shopify Integration Version 2.1 ––>
PADDLE SPECS – Lightweight Composite face with polypropylene honeycomb core
SHAPE – Standard Shape with 4" grip size
GREAT FOR JUNIOR PLAYERS – Balanced performance, lightweight, and reduced size
AVAILABLE IN MULTIPLE COLORS — Choose between blue, orange, pink, and yellow

LEADING PICKLEBALL MANUFACTURER – ONIX is the lead manufacturer of performance pickleball paddles, balls, and accessories that enable players to compete at their highest level. ONIX is devoted to giving athletes of every player level the best paddle and ball for their game. ONIX has professional pickleball players that play in national tournaments across the country
The ONIX Z Junior pickleball paddle is a new addition to the ONIX line of Z series pickleball paddles. Great for junior players entering the sport due to its balanced performance, lightweight, and reduced size, the ZJr pickleball paddle is perfect for young players learning the game. This junior pickleball paddle is available in several colors – pink, yellow, orange, and blue.
Paddle Length: 14.75"
Face Width: 7 5/8"
Grip Size Circumference: 4"
Weight: 6.2-6.8 oz
Face: Composite
Core: Polypropylene
Paddle Shape: Standard
Approximate measurements and weights only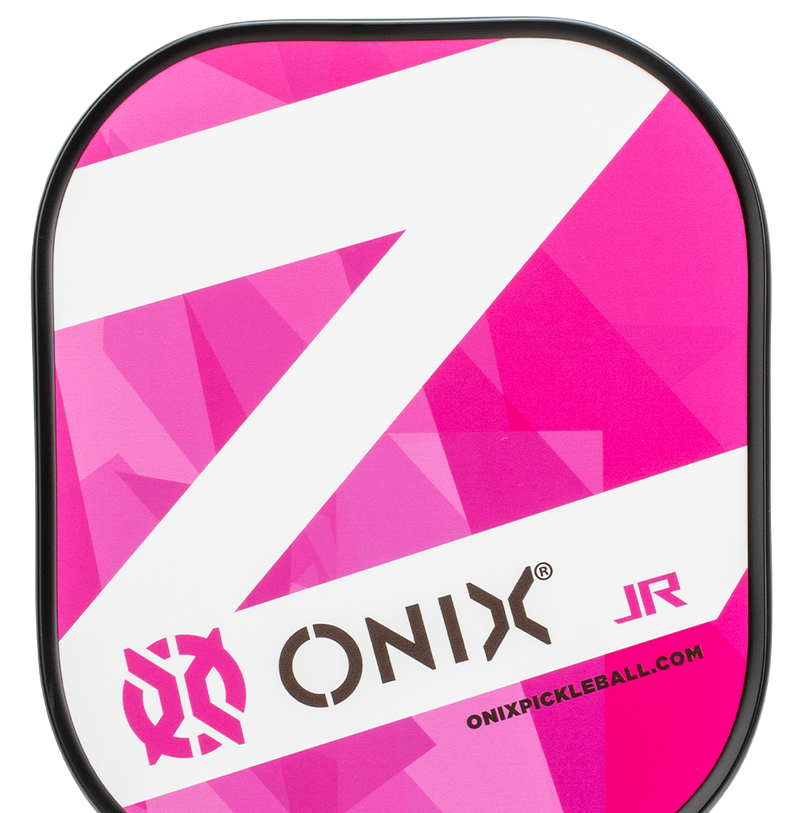 COMPOSITE FACE
Offers medium-weight characteristics for added power and touch

Polypropylene Honeycomb Core
Polypropylene Core with increased thickness for better touch, power, and pop

Light-Weight
Made of light-weight materials for increased speed and agility
Z Junior Pickleball Paddle Tech Snapshot
Finding the right paddle for you involves determining the swing speed, control, and power you want to bring to your game.
Not sure if this is the right paddle for you? Let us Help!
Find My Paddle
<! –– Bazaarvoice Shopify Integration Version 2.1 ––>