Z3 Composite Pickleball Paddle
SKU: KZ1503-PNK
<! –– Bazaarvoice Shopify Integration Version 2.1 ––>
LEADING PICKLEBALL MANUFACTURER – ONIX is the lead manufacturer of performance pickleball paddles, balls, and accessories that enable players to compete at their highest level. ONIX is devoted to giving athletes of every player level the best paddle and ball for their game. ONIX has professional pickleball players that play in national tournaments across the country.
USAPA/USA PICKLEBALL APPROVED – The newest Z Series pickleball rackets from ONIX, the Z3 Composite pickleball paddle, meets and is approved by USAPA and USA Pickleball requirements deeming it acceptable for all official pickleball tournament play.
PADDLE SPECS – Composite pickleball racquet face offers durability with a polypropylene honeycomb core and a widebody paddle shape with a 4-1/4" grip size and a protective edge guard.
PLAYER FAVORITE – Even balanced performance, composite face, and polypropylene core makes the new Z3 paddle perfect for a beginner player that is looking for great value paired with excellent performance in a standard weight range.
CHOOSE BETWEEN SEVEN COLORS – Choose between seven different pickleball paddle colors such as black, blue, green, red, pink, orange, and yellow.
The ONIX Z3 Pickleball Paddle is the newest addition to the ONIX line of Z Series paddles. Soon to be a fan favorite due to its even balanced performance, composite face, and polypropylene core, the Z3 pickleball racket is perfect for the new pickleball player that is looking for outstanding value coupled with excellent performance within a standard weight range of 7.5 to 8.2 ounces. The widebody paddle shape has a paddle core is 14mm. This pickleball paddle features an edge guard and is available in several colors including pink, black, blue, green, orange, red, and yellow. This pickleball paddle is USA Pickleball approved for tournament play. Play your best with ONIX Pickleball!
Paddle Length: 15.75
Face Width: 8 1/8
Grip Size Circumference: 4.25
Weight: 7.5 - 8.2 oz
Face: Composite
Core: Polypropylene
Paddle Shape: Wide Body
Edge Guard: Yes
Meets USAPA requirements: Yes
Approximate measurements and weights only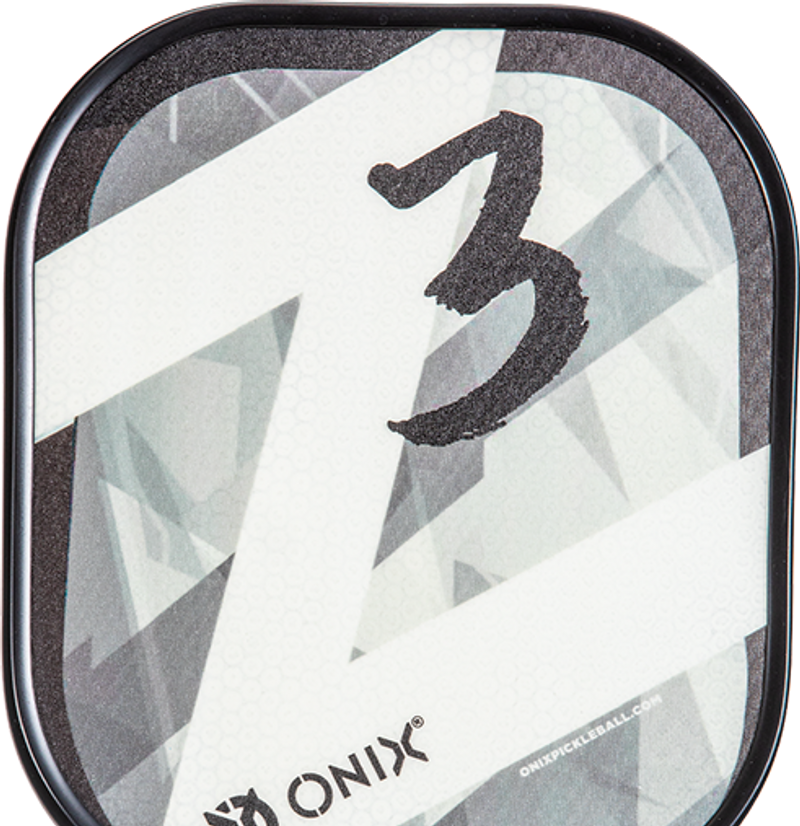 Z3 Paddle Technology

POLYPROPYLENE HONEYCOMB CORE
Polypropylene Core with increased thickness for better touch, power, and pop

COMPOSITE FACE
Offers medium-weight characteristics for added power and touch

WIDE BODY SHAPE
Extends the width of an oversized paddle shape for the largest sweet spot

MEDIUM-WEIGHT
Balances power and speed for all-around performance
Z3 Pickleball Paddle
Finding the right paddle for you involves determining the swing speed, control, and power you want to bring to your game.
Not sure if this is the right paddle for you? Let us Help!
Find My Paddle
<! –– Bazaarvoice Shopify Integration Version 2.1 ––>